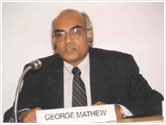 George Mathew was the Founder Director and currently the Chairman of the Institute. He received his PhD in Sociology from Jawaharlal Nehru University, New Delhi. Some of the important academic positions he held are:
Visiting Fellow of the University of Chicago South Asian Studies Centre (1981-82) and Visiting Professor, University of Padova (1988); awarded the Fulbright Fellowship in summer 1991 for working at the University of Chicago.
He is member of several committees of the federal government and on the board of governors of national and international organizations. He has participated and presented in international conferences on political process, democracy, federalism, human rights, religion and society. He is currently specializing on the local government system, decentralisation and gender equity.
His major works include; (i) Communal Road to a Secular Kerala; (ii) Panchayati Raj ' From Legislation to Movement and the following edited works; (i) Shift in Indian Politic:s; (ii) Dignity for all: Essays in Socialism and Democracy; (iii) Panchayati Raj in Karnataka Today: Its National Dimensions; (iv) Panchayati Raj in Jammu and Kashmir; (v) Status of Panchayati Raj in States of India 1994; (vi) Status of Panchayati Raj in States of India in 2000; (vii) Grassroots Democracy in India and China: The Right to Participate (co- ed.) and (viii) Inclusion and Exclusion in Local Governance: Field Studies from Rural India.
He has contributed a number of research articles and papers to national and international academic and research journals and books. Based on a true story, Dr. George Mathew produced the film: 'Swaraj: The Little Republic' which won the national award for the Best Film on Social Issues (2002) from President of India for 'its strong depiction of women's empowerment in rural India'.